Monday 14 February 2011
Leona Lewis dazzles at the Grammys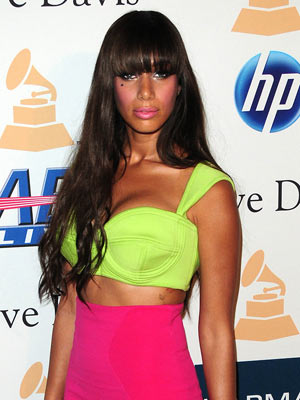 Leona Lewis loves vibrant shades
Leona Lewis stood out on the red carpet at the Grammys in another outfit she designed herself.
The X Factor winner looked stunning in a lime bra-style crop top and sexy fuchsia skirt.
She's definitely out to dress to impress.
Leona, 25, first debuted her hot new LA look last week at the premiere of Justin Bieber's 3D film Never Say Never with a 'hot lips' red top and a super-sleek new hairstyle.
Leona then graced the red carpet at the 2nd Annual Essence Black Women In Music event with a bright yellow bow across her chest and figure-hugging royal blue skirt.
For the 3rd night running, Leona wowed at a charity event in LA in a contrasting curve-enhancing maxi skirt and bright blue sexy top.
Last night's Grammys outfit was a different colour combo but just as eye-catching.
And just for fun after a week of poker straight hair, Leona stepped out with soft waves.
NEW PICTURES Grammy Awards 2011>>
SEE PICTURES X Factor winner Leona Lewis debuts hot new LA look>>
TWITPIC Skinny Leona Lewis in the recording studio>>
SEE PICTURES Leona Lewis shoots video for new single Happy>>
SEE PICTURES Leona Lewis shoots video for Forgive Me>>
EXCLUSIVE PICS Leona Lewis' new music video>>
SEE PICTURES Leona Lewis in The X Factor 2009>>
SEE PICTURES Leona Lewis in The X Factor: Where are they now?>>