Thursday 03 February 2011
Davina McCall: Exercise gives me energy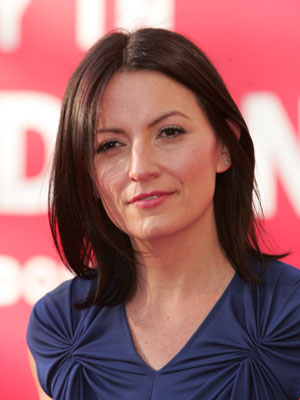 Davina McCall is presenting the new series of The Biggest Loser
Since saying goodbye to Big Brother, Davina McCall, 43, hasn't had a break from our screens.

She's cheered on dance wannabes on Got To Dance, we've held our breath watching her on The Million Pound Drop and now she's presenting The Biggest Loser.

But that isn't enough for this mum of three.

With a figure to make women half her age cry with envy, Davina's been popular on the fitness front since she released her first DVD in 2004.

Now she's back with her seventh, Davina - Body Buff.

She tells Diet Now why she wants Kylie's legs, why she doesn't sweat like Cindy Crawford and how she'll be rocking a bikini even when she's a granny...

What's the worst exercise DVD you've ever tried?
I haven't done a bad one.

I've only done Cindy Crawford's and maybe an Elle Macpherson one with my cousin.

Cindy rocked my world, so I did hers for years.

It's slightly depressing that no matter how much I exercise I'll never look like Cindy...

Yes, it's strange that.

She's lovely to watch, though.

But there's quite a lot of gurning and sweat involved in mine.

Cindy sweats in really attractive places and I'm pouring.

Nice. Have you found it harder to stay in shape as you've got older?

It's become slightly easier the older the kids [Holly, nine, Tilly, seven, and Chester, four] have got.

It's hard with a newborn or a toddler.

I saw a Tweet from someone saying: 'My toddler doesn't sleep during the day any more, so when can I work out?'

I suggested they get the toddler to use two oranges as weights and do it with you.

My kids play while I work out, then at weekends I do my own DVD.

How often do you work out in an average week?

Three times, for an hour at a time.

This morning I did a toning and muscle building circuit, which was hardcore.

Next week I have two sessions with my trainer Jackie, who I do the DVDs with, and one with a local trainer.

Sometimes I go for a power walk with my pregnant neighbour, but it's really just a gossip.

I've got the most important question of all... Exercise or sex?

They're equally good.

Sex ticks both boxes, so definitely sex.

How bad do you feel if you don't do your exercise?

Well, I just went to France for a week and only did one run.

But I do feel a bit pants if I don't work out.

I don't get depressed, just a bit flat.

Exercise gives me energy.

What's the longest workout you've ever done?

When I film the DVDs I work out non-stop from 11:30am until 5:30pm.

I have an hour for lunch, but it's epic.

That's why I sweat so much!

And my legs - arrgh!

What do you listen to when you're working out?

I've made several compilation CDs.

I have a cardio CD, a cool down CD, a cycling CD...

I listen to hard rock while cycling - angry music!

Outkast's Hey Ya! is my running pace or Gnarls Barkley's Run.

What's your most regrettable fitness outfit?

That's easy! I used to work out at Pineapple Studios in London's South Kensington 22 years ago.

I had a pink outfit, leggings and a cropped top, and a blue leotard that went up my bum like a thong!

It was a proper Olivia Newton-John Let's Get Physical outfit.

Do you watch what you eat?

I think about what I'm eating.

Last week in France I ate croissants every day and French bread with butter.

So this morning I had porridge with honey to detox off the bread.
Exercising helps because you don't want to eat a huge fry-up after a run.

Have you ever tried a fad diet?

Yes. The Atkins was the worst.

They say to only do the hardcore bit for two weeks, but I tried to do it for ages and have Sundays off.

I'd regain all the weight on Sundays because I was carbing up from dawn until dusk.

What's your food weakness?

Croissants! I've also tried to sort of steer away from sugar, but if someone offered me a slice of banoffee pie I'd have to eat it.

You appeared on BB in a bikini. How bikini confident are you?

I'm bikini confident now, but I was less so six months ago.

When do you think is too old to wear a bikini?

I put that very question out on Twitter because I've got slightly crinkly post-baby skin on my stomach.

Is that a bit gross?

I don't think it is and I won't care when I'm a fat granny!

What's your ideal weight?

I'm around 9st 10lb. But 10st isn't my happy weight and I was 10st 3lb last summer.

What are your best and worst body bits?

My stomach is my pride and joy, while my least favourite part is my legs.

Whatever I do, they won't be like Kylie's.

They don't have any shape - I want bony knees, but I've got fat ones.

Are you surprised by the success of your DVDs?

Very pleasantly surprised.

Lots of people tell me they've changed their lives.

They send me pre- and post-DVD photos.

It's brilliant!

Davina's celeb body envy

'Jennifer Aniston has an amazing body.

'She's a woman my age, but she hasn't had any kids.

'She looks good in a bikini.

'Myleene Klass is pregnant and still looks perfect - she never puts on weight apart from her bump!

'When I was pregnant, my arms, my face and my ankles - God, I had fat feet!

'I had to wear crocs all the time!

'The day after I was like: "I have bones again!"

'I love Madonna, too.

'She's fit, but I wouldn't go to one of her new Hard Candy gyms.

'I'd set up a rival Davina one, which would sell Krispy Kreme doughnuts and have a spot where you could gossip and have a cigarette.'

Davina - Body Buff is out now on DVD, price £19.99
PHOTO GALLERY Celebrity tattoos>>
EXCLUSIVE VIDEO Big Brother star John James Parton strips for
Now>>
SEE PICTURES Big Brother - where are they
now?>>
SEE PICTURES Big Brother's hottest
housemates>>