Wednesday 12 January 2011
X Factor reject Gamu Nhengu signed up by 50 Cent?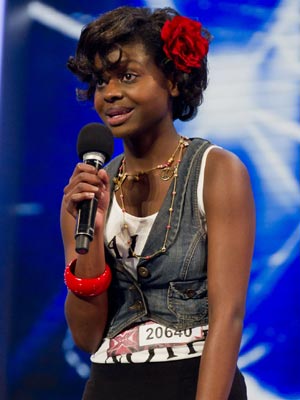 American websites claim Gamu Nhengu is signed to G-Note
X Factor reject Gamu Nhengu has reportedly been snappedd up by Fiddy for his new record label G-Note.

The rapper is said to have been interested in the singer 'for some time' and plans to help the 18-year-old launch her career under the name Miss Gamuchirai.

'Miss Gamuchirai has been singed to 50 Cent's new record label, G-Note!' reports Microbuzz.com.

'G-Note will focus on 50's favourite acts that don't fit neatly into G-Unit's hip-hop categorisation and will favour pop and R&B artists.
'It is believed that many labels have been interested in signing Gamu but G-Note offered the best deal and are best connected to make her dreams reality.'

The Zimbabwean-born singer, who currently lives in Clackmannashire, Scotland was denied a place in the live finals by judge Cheryl Cole.
The singer then found herself at risk of deportation after her family's visa application was denied.
The Nhengus won the latest appeal in their fight to remain in the UK last November.
SEE PICTURES The X Factor 2010 - finalists prepare for
live shows>>
SEE PICTURES The X Factor 2010 - final 12 get
makeovers>>
SEE PICTURES The X Factor 2010 - final 12>>
SEE
PICTURES The X Factor 2010 - auditions>>
SEE PICTURES The X Factor 2009 - best moments>>
SEE PICTURES The X Factor: Where are they now?>>