Thursday 25 November 2010
Kate Middleton's see-through catwalk dress 'worth £100,000'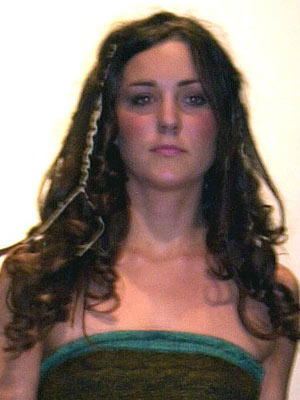 Kate Middleton's dress cost just £30 to make
Kate Middleton
's infamous black see-through dress - that first caught
Prince William
's eye - could one day be worth £100,000 if
Kate
becomes
Queen
.
Kate, 28, modelled the dress at University Of St Andrews fashion show eight years ago, with Prince William mesmerised in the front row.
'The dress is a part of fashion history - the moment William could first have fallen in love with Kate - and that makes me really proud,' says the designer of the dress, Charlotte Todd.
'If it hadn't been see-through, William might not have noticed her.
'I definitely think it has played a part in the royal love story.'
Charlotte says she would never sell the dress, which she actually designed to be worn as a skirt, despite auctioneers telling her it's worth £10,000 and one day could fetch ten times that.
'The only person I'd probably give it to is her - maybe in exchange for a wedding invitation,' Charlotte tells the Daily Mail.
'Of course I would love to design her wedding dress too.'
Wills, 28, proposed to Kate on holiday in Kenya. The couple will marry on 29 April next year.
SEE PICTURES Kate Middleton - a Queen in waiting?>>
SEE PICTURES Celebrity weddings 2010>>
SEE PICTURES Engaged celebrities>>
Esme Riley