Monday 15 November 2010
Nadine Coyle's album only gets to No 47 in chart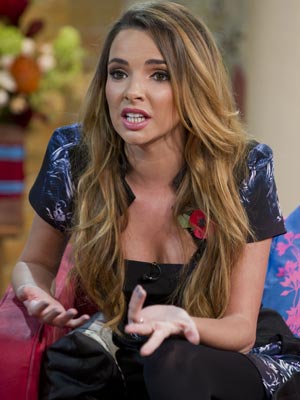 Nadine Coyle is signed to Tesco's record label
Nadine Coyle failed to crack the Top 40 with her debut solo album last night.
Insatiable - which was released exclusively through Tesco's record label - only made it to No 47.
Nadine, 25, had sales of about 5,000 for the album.
Last week, her debut solo single - also called Insatiable - only made it to No 26.
Last night, Rihanna topped the single chart with Only Girl (In The World) for a second week, while Take That had to settle for No 2 with The Flood.
Susan Boyle knocked Nadine's Girls Aloud bandmate Cheryl Cole, 27, off the top spot in the album chart with her new LP The Gift.
The X Factor judge fell to No 3 with Messy Little Raindrops.
SEE PICTURES Cheryl Cole turns into a ballerina for new music video here>>
SEE PICTURES The life of Cheryl Cole>>
SEE PICTURES Cheryl and Ashley Cole: The story so far>>
FASHION GALLERY SPECIAL Cheryl Cole's fashion history - the highs and the lows>>
CELEBRITY HAIR Cheryl Cole: From corn rows to curls>>
PICTURES Cheryl Cole heads home from California>>
PHOTOS: Cheryl Cole arrives back to UK from LA>>
SEE PICTURES Cheryl Cole rocks Bangor>>