Wednesday 03 November 2010
OMG! Nadine Coyle has only sold 117 CD copies of new single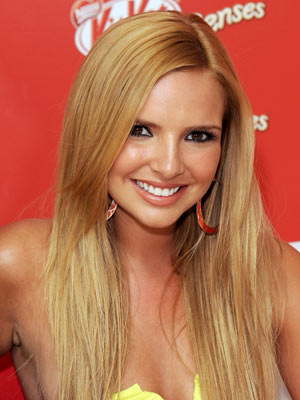 Nadine Coyle is signed to Tesco's record label
Nadine Coyle only sold 117 CD copies of her debut solo single on Monday, according to official chart figures.
The Girls Aloud star - who's released Insatiable exclusively through Tesco's record label - had digital sales of 2,439 - meaning her final numbers on Monday were just 2,556.
Nadine, 25, is now sitting at No 35 in the mid-week chart.
'Her single is just about showing in the list of this week's Top 40 bestsellers, which I imagine she won't be happy with,' HMV spokesman Gennaro Castaldo tells the Daily Star.
'It may make her question the wisdom of tying up exclusively with a supermarket chain - excluding a number of fans.'
Nadine has also suffered from not making it on the Radio 1 playlist.
In contrast, Girls Aloud bandmate Cheryl Cole's single Promise This remains at No 1 in the mid-week chart with sales of 28,567 this week.
The X Factor judge's second album Messy Little Raindrops is also on course to top the album chart.
SEE PICTURES Cheryl Cole turns into a ballerina for new music video here>>
SEE PICTURES The life of Cheryl Cole>>
SEE PICTURES Cheryl and Ashley Cole: The story so far>>
FASHION GALLERY SPECIAL Cheryl Cole's fashion history - the highs and the lows>>
CELEBRITY HAIR Cheryl Cole: From corn rows to curls>>
PICTURES Cheryl Cole heads home from California>>
PHOTOS: Cheryl Cole arrives back to UK from LA>>
SEE PICTURES Cheryl Cole rocks Bangor>>