Tuesday 27 July 2010
Jedward: Cheryl Cole is ready to mingle with Simon Cowell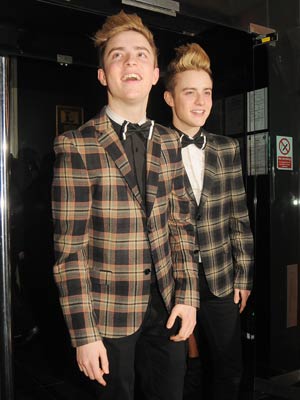 Jedward are managed by Louis Walsh
Jedward have joked that Simon Cowell won't marry fiancée Mezhgan Hussainy - because he wants to romance Cheryl Cole.
The Girls Aloud star, 27, has been single since splitting from husband Ashley, 29, in February.

'Simon Cowell isn't getting married any more because Cheryl Cole is back on the scene,' The X Factor twins - John and Edward Grimes - joke.
'Cheryl Cole is ready to mingle with Simon Cowell.'
Simon, 50, got engaged to Mezhgan, 37, on Valentine's Day in February.
Jedward's new single, a cover of Blink 182's All The Small Things, is out now.
SEE PICTURES John and Edward Grimes: Their X Factor journey>>
SEE PICTURES The X Factor 2009>>
SEE PICTURES The X Factor: Where are they now?>>
SEE PICTURES The life of Cheryl Cole>>
SEE PICTURES Cheryl Cole rocks Bangor>>
SEE PICTURES Cheryl and Ashley Cole: The story so far>>
FASHION GALLERY SPECIAL Cheryl Cole's fashion history - the highs and the lows>>
CELEBRITY HAIR Cheryl Cole: From corn rows to curls>>
PICTURES Cheryl Cole flies heads home from California>>