Monday 28 June 2010
VIDEO Kylie Minogue kisses Scissor Sisters' Ana Matronic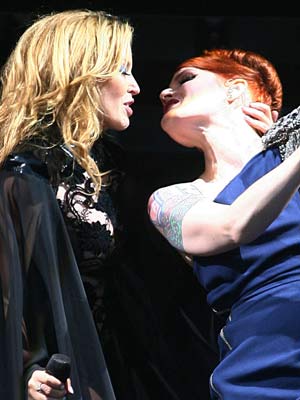 Kylie Minogue and Scissor Sisters star Ana Matronic embraced on stage
Kylie Minogue shared an on-stage snog with Scissor Sisters star Ana Matronic on Saturday night.
The singer, 42, joined the band at Glastonbury to duet on the track Any Which Way and surprised fans by locking lips with the 35-year-old at the end of their performance.
Kylie - who was wearing thigh-high boots, a black cape and lacy leotard - also gyrated with frontman Jake Shears during the set.
In 2005, she had to pull out of performing at Glastonbury for the first time when she was diagnosed with breast cancer.
SEE PICTURES All the stars at Glastonbury 2010>>
SEE PICTURES Kylie Minogue shoots sexy new All The Lovers video>>
SEE PICTURES Kylie Minogue Style File>>
SEE VIDEO Kylie Minogue kisses Scissor Sisters' Ana Matronic...
SEE VIDEO Jake Shears on Kylie Minogue duet...