Friday 04 June 2010
Miley Cyrus fakes lesbian kiss on Britain's Got Talent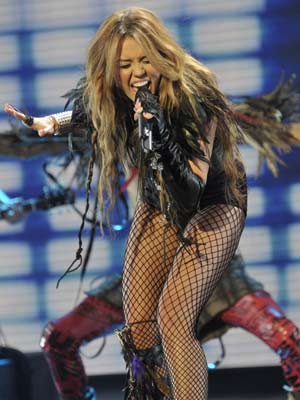 Miley Cyrus performs new single Can't Be Tamed
Miley Cyrus performed on last night's Britain's Got Talent, and faked a lesbian kiss with a dancer.
The teen star, 17, danced in a skimpy leotard, heels and fishnet tights - a far cry from her squeaky clean Hannah Montana image.
Although Britain's Got Talent is light entertainment and a family-orientated show, Miley's performance was shown after the 9pm watershed.
Speaking to hosts Ant and Dec, Miley revealed she was worried about her performance.
'I was a little nervous,' she admitted.
'There are so many talented people here tonight.'
SEE PICTURE Miley Cyrus fakes lesbian kiss>>
SEE PICTURES Miley Cyrus shoots sexy new video>>
SEE PICTURES Miley Cyrus at the Disney
Channel Games>>
SEE PICTURES The top 20 teen idols>
Kate Lucey