Thursday 29 April 2010
Jesse James: Sandra Bullock is the love of my life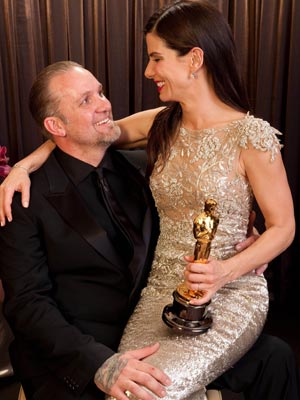 Sandra Bullock and Jesse James got married in 2005
Sandra Bullock's husband has broken his silence about her plans to divorce him.
The Oscar-winning actress and Jesse James, 41, separated following allegations he cheated on her with several women.
Just weeks before the split, the couple adopted three-month-old baby Louis Bardo, who Sandra, 45, plans to raise as a single mother.

'My whole life has been full of hard decisions,' reads Jesse's statement to People.
'The decision to let my wife end our marriage, and continue the adoption of Louis on her own, has been the hardest.
'The love I have for Louis cannot be put to words. Not having him around to love and to hold has left a huge hole in my heart.

'Sandy is the love of my life, but considering the pain and devastation I have caused her, it would be selfish to not let her go.'
Jesse checked into rehab shortly after the split.
'Right now it is time for me to beat this addiction that has taken two of the things I love the most in life,' he adds.