Wednesday 17 March 2010
Victoria Beckham reunites with injured David in Finland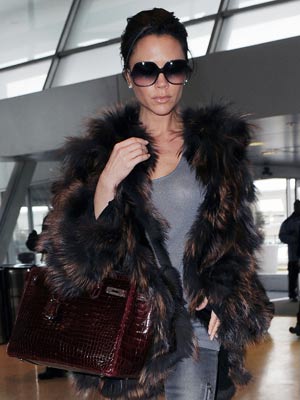 Victoria Beckham's been flying from LA to Milan to see David every fortnight
Victoria Beckham met up with her husband David in Finland yesterday.
It was the first time they'd seen each other since he had an emergency op on a torn Achilles tendon.
Posh, 35, flew into Turku from LA by private jet and immediately went to the footballer's bedside.
'David's eyes lit up when Victoria arrived,' a source tells The Sun. 'It was a very emotional moment when they met. She gave him a massive hug and kiss.

'He is over the moon Victoria has dropped everything to get to him. It has made him realise what really matters in life.'
David, 34, who was injured when his team AC Milan played Chievo in Italy on Sunday, had surgery at the Mehilainen clinic on Monday.
PM Gordon Brown contacted Becks to offer his support as he faces being laid up for six months.
'He emphasised what a tremendous ambassador Mr Beckham is for soccer,' said Downing Street spokesman Simon Lewis.
'He wishes him well in his recovery, as I think the whole nation does.'
SEE VIDEO David Beckham stretched off football pitch after tearing Achilles tendon>>
SEE PICTURES Victoria and David Beckham launch new fragrance Signature in New York>>
SEE PICTURES David Beckham's changing hairstyles>>
SEE PICTURES Victoria and David Beckham: A love story in pictures>>