Monday 15 February 2010
Peter Andre releasing illustrated memoir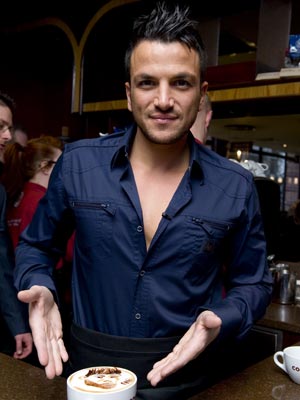 Peter Andre has not written the book himself
Peter Andre is bringing out a new memoir.

The as-yet untitled book will feature almost 200 never-before-seen snaps of the singer, 36.

It has been penned by a ghost writer and will focus on Pete's childhood, music career, marriage to Katie Price, 31, and life as a single father.

Penguin's Michael Joseph arm will publish the memoir on 13 May to coincide with the latest series of ITV2 show Peter Andre: The Next Chapter.

'This is a real coup and we are extremely excited about this project,' publisher Katy Follain tells The Bookseller.

Jordan's fourth autobiography, I'm Still Standing, is due out in October.
SEE PICTURES Alex Reid and Katie Price's love story in photos>>
SEE PICTURES Peter Andre's night on the town with Nicola McLean and Chantelle Houghton>>
SEE PICTURES Jordan and Peter Andre: A love story in photos>>