Friday 12 February 2010
Vanessa Perroncel's broken her best friend's heart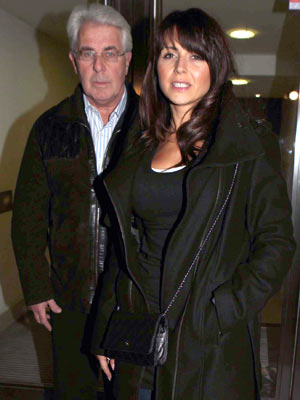 Vanessa Perroncel with PR guru Max Clifford
While cheating John Terry's devoted wife Toni Poole, 28, tries to escape the glare of publicity on a beach in Dubai, his latest fling is basking in the limelight.
Model Vanessa Perroncel - who had an affair with the Chelsea footballer while dating his teammate Wayne Bridge, 29 - has said she won't be selling her story, but there's no doubt she's enjoying the attention. Not to mention tabloid offers in excess of £250,000.
Now spoke to colleagues of Vanessa, who claims to be 28. She worked for many years as a hostess at celebrity haunts like London's Elysium club.
One source tells us: 'She didn't fancy Wayne at first, but they started dating and she was desperate to marry.
'Vanessa wanted the WAG lifestyle. But Wayne became more distant when he moved to Manchester City in 2009.
'That's when she set her sights on John Terry, even though he was married to Toni, one of her closest friends.
'But she won't care about that - she's cheated with married men before. She wants to be the next Rebecca Loos.'
When the story broke two weeks ago, Vanessa - who is mum to three-year-old son Jaydon with Wayne - contacted showbiz agent Max Clifford.
'Vanessa was furious that the story broke, but she turned it to her advantage,' says a pal.
Last week, it was alleged that over the past 10 years Vanessa's had a string of affairs with at least five other men, including former Chelsea players Eidur Gudjohnsen and Adrian Mutu - which both strongly deny. Before meeting Wayne, she had a relationship with former Steps star Lee Latchford-Evans.
Vanessa's modelling work when she came to London from France 10 years ago led to the Elysium hostess role that brought her face to face with Premiership players.
In response to the claims, Vanessa's spokesman says: 'She knew some of the players, but she didn't have affairs with them. She knew lots of stars, as you do when you work in clubs.'
SEE PICTURES John Terry and Toni Poole - a love story>>
Read the full story about John Terry, Toni Poole and Vanessa Perroncel in Now magazine dated 15 February 2010 - out now!