Friday 22 January 2010
Gordon Ramsay: The kids stuck pound coins in my chin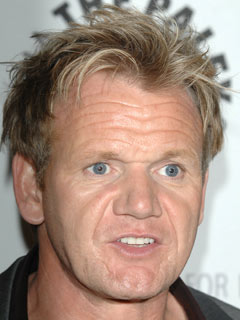 Celebrity chef Gordon Ramsay was teased about his laughter lines
Gordon Ramsay
decided to have injections in his chin after he was teased about his wrinkles.
The Hell's Kitchen star got stick from his children and pal Simon Cowell, 50.

'I had these laughter lines and everyone wanted me to do something about it - Simon's obsessed with it,' explains Gordon.

'Then I woke up in the mornings to find the kids had stuck pound coins in my chin.
'And I thought, "F*** it, I'm going to get it done!"'

But Gordon, 43, doesn't plan to get more Botox.

'It hurt like mad,' he tells The Sun. 'I've no interest in doing it again.'
SEE PICTURES Gordon and Tana Ramsay - a marriage that no 'affair' can shatter>>