Tuesday 29 December 2009
Alicia Duvall: I cut off my toe to get feet like Cheryl Cole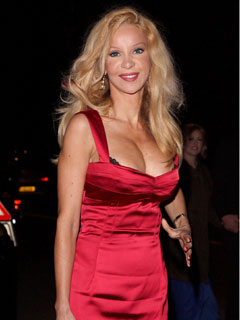 Glamour model Alicia Douvall's hunger for perfection has led to her latest surgery
After watching Cheryl Cole totter onto The X Factor stage in a pair of Giuseppe Zanotti sandals, Alicia Douvall decided to have revolutionary surgery on the overlapping toes on her size 6 feet.

'I know people will think I'm mad, but my feet were so horrible,' Alicia tells Now exclusively.
'I hated the fact that my second toes were so much longer than my big toes: they were crooked and overlapped.'

Alicia spent a month in an LA rehab 
clinic earlier this year to attempt to cure her surgery addiction but after seeing an advert in the US for a £4,000 toe-shortening procedure, she couldn't resist.
The procedure involves cutting some of the bone from the second toe on each foot to make it shorter than the big toe.
Alicia booked herself into a private clinic in London, using a fake name, as British surgeons refuse to operate on her because she's had so many procedures.

'I was always very self-conscious about the way my feet looked,' she explains. 'Whenever I wore sandals, my toes spilled out of the front and looked so ugly. It even put me off dating. I was miserable.'

So, in September 30-year-old Alicia underwent the procedure under local anaesthetic on one foot.
'I couldn't see what was happening,' she explains, 'but the sound of the surgeon cutting the bone was terrifying.'

Despite a painful recovery, Alicia is now happy with the results - and is looking forward to getting the other foot done in a few months.
FASHION GALLERY SPECIAL Cheryl Cole's fashion history - the highs and the lows>>
NEW PHOTOS Cheryl Cole vs Dannii Minogue - who's the most stylish?>>
SEE PICTURES Cheryl and Ashley Cole: The story so far>>
PICTURE GALLERY: Cheryl Cole - from cornrows to curls>>
Don't miss The X Factor live tour, click here to book your tickets now!>>
See the full story about Alicia Duvall - and the pictures of her toes - in Now magazine dated 4 January 2010 - out now!