Thursday 17 September 2009
SEE VIDEO Susan Boyle sings on America's Got Talent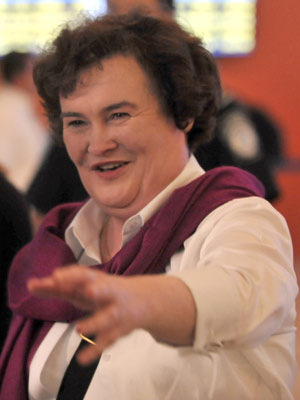 Susan Boyle was greeted by a crowd of fans when she touched down at LAX earlier this week
Susan Boyle
was given a standing ovation when she performed on
America's Got Talent
last night.
The Britain's Got Talent runner-up, 48, belted out I Dreamed A Dream and her new single Wild Horses, a Rolling Stones cover, during the final of the hit US series.

'People were crying and cheering her after her performance,' an audience member tells the Daily Mail.

A beaming Susan, who wore an elegant black dress, then spoke to judges Piers Morgan and Sharon Osbourne.

Earlier in the week, she was snapped going on the children's rides at Disneyland in California.
Her debut album I Dreamed A Dream is due to be released on 23 November.

SEE PICTURES Susan Boyle on the rides at Disneyland here>>
SEE PICTURES Britain's Got Talent 2009>>
SEE VIDEO Susan Boyle performs Wild Horses on America's Got Talent...

Get more news like this every week. Try 4 issues of the new-look Now for only £1>>