Tuesday 01 September 2009
Suicide fears for Kerry Katona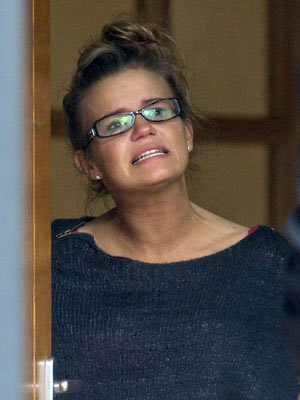 Kerry Katona won't believe Mark's betraying her
When Kerry Katona finally cracked last week, it came as no surprise. The twist was that she's been accused of lashing out at her accountant David McHugh rather than her seedy husband Mark Croft, 39.
'It's a sign that Kerry's at her lowest point ever,' says a well-placed source. 'She's in a terrible state, totally hysterical and in constant tears.
'The one thing she can't face is that it's Mark who ruined her. She even wanted him in the interview room with her when she was questioned by police. He pretended to comfort her, but he was laughing about the whole thing. That shows you how seriously he takes the pain she's in.'
Kerry, 28, was quizzed by cops last Wednesday, accused of kicking in the door of David's Warrington office and ranting at him.
Our source says: 'She called him every name under the sun and said it was his fault that she's been left with nothing. She allegedly poured hot tea all over him and hit him.'
Two hours later, she was arrested for assault and criminal damage and questioned for 8 hours.
Friends now fear that Kerry, who didn't come home afterwards and was instead holed up in a hotel, could be at risk of harming herself.
'We fear the worst,' says one. 'She should be sectioned. She needs serious help, both with her state of mind and her drug addiction. Getting a hug from Mark and just putting her head in the sand won't solve this mess.
'Kerry's had her fair share of bad times, but this seems to be rock bottom. She's still bankrupt, she's scared of losing her kids and now she fears going to prison. But she still believes Mark is the one person she can trust when really he's responsible for all this.
'He's kept her drugged up and unaware of what's going on while he's frittered away her cash with bizarre investments in everything from fruit machines to pink rabbits. And David wasn't necessarily the best person to look after Kerry's complicated finances, having been convicted of fraud and being a friend of Mark's to boot.
'The real pathetic reason she's so scared of losing her millions is that she knows Mark will leave her if her money runs out and she can tell that's already happening. Kerry's chosen to believe that he wasn't the one behind the leaked footage of her taking cocaine, but that's just another example of how she isn't facing reality.'
Kerry – who's spoken of her memories of her mother trying to kill herself and how she's battled suicidal feelings in the past – now plans to get treatment from therapists Eva and Nik Speakman for her cocaine addiction.
'She's used cocaine since the video of her snorting the drug came out in the newspapers,' a friend says. 'It's great that she's getting some help, but we fear she needs to be looked after 24/7 right now.'

See the full story about Kerry Katona in Now magazine dated 7 September 2009 - out now!
Beth_McLoughlin@ipcmedia.com