Monday 17 August 2009
Zac Efron and Vanessa Hudgens: We're not engaged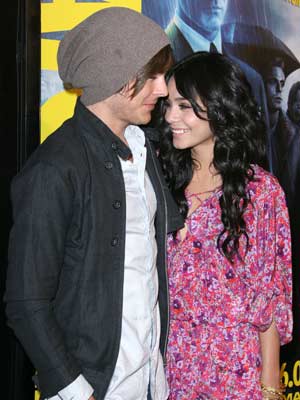 Zac Efron and Vanessa Hudgens starred alongside each other in High School Musical
Zac Efron
and
Vanessa Hudgen
have responded to yet another claim they're set to wed.
Vanessa, 20, was reported to have told the News Of The World the big news.
'We haven't set a date and if we did, we'd keep it secret for as long as possible,' she's quoted as saying.

'Why? What if one of us was offered a major film part? Then we'd have to postpone our marriage and people would say we'd split up. And we don't want that.'

Their reps tell JustJaredJr.com the rumours are 'not true'.
SEE PICTURES Zac Efron in new movie 17 Again>>
SEE PICTURES Zac Efron and Vanessa Hudgens – a love story in photos>>

SEE PICTURES Zac Efron's life in photos>>
Alison Adey