Monday 22 June 2009
SEE PICS Peter Andre in tears over reunion with mum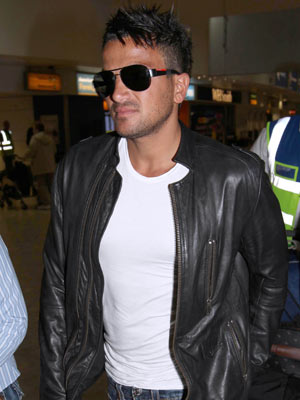 Peter Andre is looking after his kids Junior and Princess Tiaamii and Jordan's son Harvey
Peter Andre was in floods of tears after his mum flew to Cyprus to see him.

The singer has not seen Thea since the breakdown of his marriage to Jordan, 31.

Pete was lured to the airport to pick up older sister Debbie on Friday.
But he was unable to control his emotions as he realised his mum had made an unexpected trip from Australia.

'I can't help it, it's six weeks of emotion coming out,' he said.

Pete, 36, was later snapped weeping on Thea's shoulder.

'Seeing his mum was a big surprise,' manager Claire Powell tells the Daily Star.
'It made his day having her fly in, so that's why he was so tearful.'
Jordan, real name Katie Price, is currently on holiday in Ibiza.
Katie Price And Peter Andre: The Next Chapter Stateside airs on ITV2 on Thursdays at 9pm.

SEE PICTURES Peter Andre breaks down after reunion with mum Thea here>>
SEE PICTURES Jordan goes topless on speedboat here>>
SEE PICTURES Jordan parties with ex Matt Peacock and model Anthony Lowther here>>
SEE PICTURES Celebrity break-ups 2009>>
SEE PICTURES Jordan and Peter Andre - a love story in pictures>>