Tuesday 12 May 2009
Angelina Jolie packs Brad Pitt's bags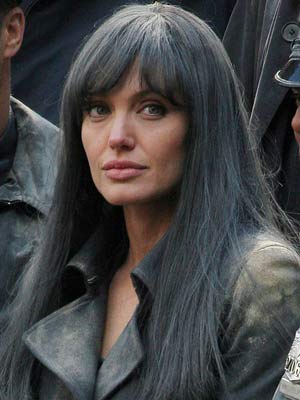 Angelina Jolie wears a wig for new movie Salt
Courteney Cox has finally forgiven Brad Pitt for running off with Angelina Jolie and has given Brad and Jen's renewed friendship her seal of approval.
Furious Courteney, 44, hadn't spoken to Brad for four years until last week, when they ran into each other at Chris Cornell's concert at the Wiltern Theatre, Los Angeles.

The meeting, engineered by Jen, gave each party a chance to clear the air. Brad was upset when he heard that Courteney and Jen had recently fallen out and said he wanted everyone to be friends again.

'Jen told Brad about the concert and he went because he wanted to have a laugh with Courteney and David [Arquette, Courteney's husband].

'He attempted to speak to Courteney at the Vanity Fair post-Oscars party in 2008, but was dragged away by Angelina just as he said: "Hello, sweetheart."
'She can't stand any of Jen's inner circle.'

On 30 April, Angelina was pacing up and down her New York home in a blind fury after hearing rumours that Brad, 45,
was talking to his ex-wife again.
The 33-year-old calmly packed the remains of Brad's clothes and had them taken to a hotel, where she'd booked a suite in his name.
She then went back to Albany for the weekend to continue filming her new movie Salt.

'Angie went mad and told Brad not to bother coming back,' says our insider. 'She told him he'd humiliated her for the last time and that if he wanted to go back to his boring shallow life with Jen, that was
fine by her.'
Jennifer Aniston's spokesperson denies that a meeting with Brad ever took place.
SEE PICTURES Angelina Jolie throughout her pregnancy>>
SEE PICTURES Brad Pitt and Angelina Jolie - A love story in photos>>
SEE PICTURES Angelina Jolie – from sultry teenage to sexy Hollywood star>>
See the full story about Brad Pitt, Jennifer Aniston and Angelina Jolie in Now magazine dated 18 May 2009 - out now!
Alison Adey