Monday 23 March 2009
Stars attend Natasha Richardson's funeral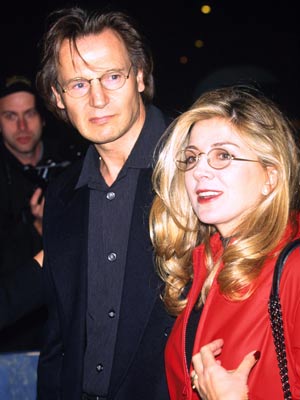 Natasha Richardson and Liam Neeson had been together for 15 years
The funeral of Liam Neeson's wife Natasha Richardson was held near the couple's US home yesterday.

Liam, 56, was among the pallbearers who carried the 45-year-old star's coffin into St Peter's Episcopal Church in Millbrook, New York state, for a private service.

Other mourners included Natasha's mum Vanessa Redgrave, her aunt Lynn Redgrave, sister Joely and actors Uma Thurman, Ralph Fiennes and Mia Farrow.

The family held a private wake at New York's American Irish Historical Society building on Friday.

Natasha passed away following a skiing accident in Canada.

She leaves behind sons Michael, 13, and Daniel, 12.
SEE PHOTO GALLERY: Natasha Richardson - a tribute in pictures>>