Monday 16 March 2009
Jennifer Aniston dumped John Mayer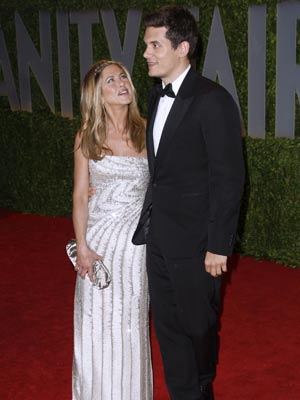 Jennifer Aniston is said to have dumped musician John Mayer when he 'went cold' after the Oscars
Jennifer Aniston decided to end things with John Mayer, according to her pals.

The pair split last week after the Friends star returned from a trip to Europe, where she was promoting her new film Marley & Me.

Jennifer, 40, apparently dumped John, 31, because he grew distant.

'They had a great time at the Oscars, but he seemed to go cold right after,' a friend tells The Sun.
'It's humiliating. To say her feelings are hurt is an understatement.'

Last week, US sources claimed it was John who ditched Jen.
She divorced Brad Pitt, 45, in 2005.
SEE PICTURES Jennifer Aniston - lonely at 40>>
SEE PICTURES Brad Pitt and Angelina Jolie - A love story in pictures>>
SEE VIDEO Jennifer Aniston in new movie Marley & Me...