Thursday 22 January 2009
Mamma Mia! co-stars Amanda Seyfried and Dominic Cooper are dating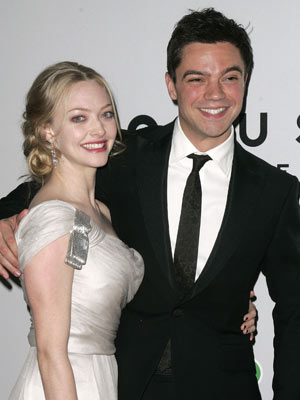 Dominic Cooper & Amanda Seyfried met on the set of 2008 blockbuster Mamma Mia!
Mamma Mia! actors Amanda Seyfried and Dominic Cooper have sparked up a real-life romance.
The pair were spotted leaving Mahiki club in London together at the start of the month.
And a few days later they were snapped shopping in Beverly Hills.
Amanda, 23, admits she fell for Dominic during filming in 2007.
In an interview last June, she said: 'I just found him funny and it was like we were the same person - except that he's British, almost 30 and a man!
'We both look like frogs with our wide-set eyes, we're both indecisive and neither of us has a lot of willpower.'
Dominic, 30, has split from Joanna Carolan, 30, after 13 years.
'I've cried a lot of tears and have woken up to the reality that the future I wanted is never going to happen,' she tells Grazia.

'Life changes, people change and success does things to people. You have to decide whether you can put up with that - and I couldn't.'
Alison Adey