Sunday 11 January 2009
Jordan: Peter Andre doesn't get much sex because I conceive easily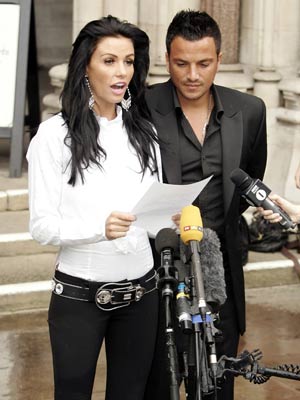 Jordan and Peter Andre have to restrain themselves
Jordan is reluctant to make love to her husband Peter Andre – because she thinks she'll get pregnant.

The glamour model, real name Katie Price, says she's super-fertile.

'I seem to conceive really easily,' she admits. 'That's the trouble. It's probably why Pete doesn't get sex very much because I know what happens when he does. I know that'll be it – another baby!'

But Jordan, 30, and Pete, 35 - who've clearly don't have much faith in contraception - do plan on extending their family in the future.

'We want another 4 kids,' Jordan tells the Daily Mirror.

The couple are parents to Junior, 3, and Princess Tiáamii, 18 months. Jordan also has son Harvey, 6, from a previous relationship.
SEE GALLERY Jordan launches her new fragrance Besotted>>
SEE GALLERY Jordan strips off to promote new lingerie range>>