Friday 19 December 2008
Tom Cruise: Suri wasn't impressed when I dressed up as Santa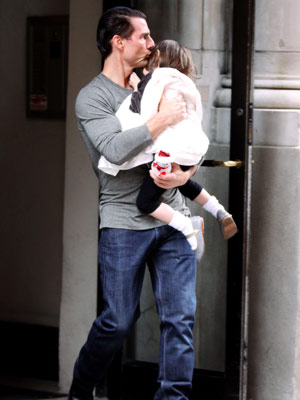 Tom Cruise also has adopted kids Isabella, 15, and Connor, 13, with ex Nicole Kidman, 41
Tom Cruise
has revealed that he failed to impress his 2-year-old daughter
Suri
when he dressed up as
Father Christmas
last year.
The 46-year-old actor, who's married to Katie Holmes, showed off photos of the youngster when he appeared on a US chat show earlier this week.
'Katie actually made the outfit for me and I crawled through ice and snow and almost killed myself getting through the door,' he tells host David Letterman.
'But you can see Suri is not sure about this. You can see Suri looking at me going: "No, Dadda, no."'
Katie turned 30 yesterday.
SEE PHOTO GALLERY OMG! How cute is Suri Cruise?>>
SEE GALLERY Katie Holmes enjoys a day out with daughter Suri Cruise in New York>>
SEE GALLERY Celebrity baby names A to Z>>
Alison Adey

Stuck for the perfect Christmas gift? Save 30% when you subscribe to Now>>