Sunday 04 January 2009
Victoria Beckham: I look like crap in the morning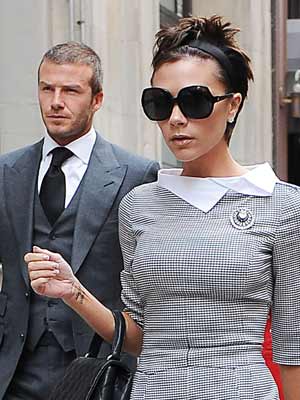 Victoria & David Beckham live in LA now
Victoria Beckham hides behind sunglasses when she's feeling unattractive.
The former Spice Girl says shes just like any other working mum.
I look like crap [in the morning], she says. Ive got three children.
'I never wear make-up or dress up at home. Thats why I like big sunglasses. They hide a multitude of sins.

Posh, 34, doesnt understand why she and husband David, 33, get hassled by paparazzi in LA.

They shouldn't really bother following me, she says. There are far more interesting people in Hollywood than myself and David!
SEE GALLERY Stars without make-up>>
SEE GALLERY Victoria Beckham shows off her new hair>>

SEE GALLERY Victoria Beckham Style File>>

SEE GALLERY Victoria Beckham turns into a boy>>

SEE GALLERY Katie Holmes vs Victoria Beckham>>
Now is the perfect Christmas gift. Subscribe and save 30%.