Saturday 29 November 2008
Nicole Scherzinger: I struggle to be sexy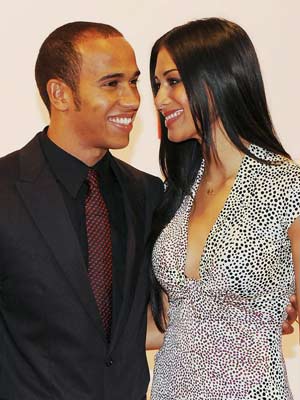 Nicole Scherzinger and Lewis Hamilton met at the MTV Europe Music Awards last year
Nicole Scherzinger has revealed she struggled with her image when she first joined the Pussycat Dolls.

The singer says she was uncomfortable with the band's raunchy costumes and dance routines.

'The image side of the Dolls was never seedy or sleazy but it was sexual,' she says. 'At first I wasn't comfortable with that.

'I'd always be worried about what other people were thinking about me. I was afraid of upsetting my family.'
Nicole, 30, says she was shy growing up because of her sheltered upbringing.
'I grew up in a very strict, conservative family and my grandfather had his own church.

'I suppose I grew up with lots of guilt. When I joined the Dolls it was a major turning point for me as all that guilt had to go,' she tells Live.

'I had to reinvent myself and lose my insecurities. It took time for me to get my confidence.'
Nicole is currently dating Formula 1 World Champion Lewis Hamilton, 23.
SEE PHOTOS Lewis Hamilton and Nicole Scherzinger: A love story>>
Bronwen Roberts
Stuck for the perfect Christmas gift? Save 30% when you subscribe to Now>>