Wednesday 12 November 2008
Emma Griffiths: Matt Willis poked me in the eye with his willy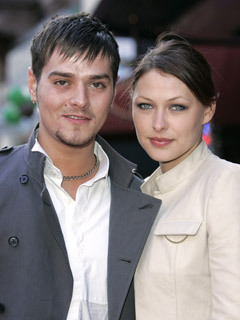 Emma Griffiths & Matt Willis married this year
Emma Griffiths has revealed that husband Matt Willis clocked her around the face with his penis.

The TV presenter says the former Busted star loves playing tricks with his member.

'If I'm a bit sad or a bit down or it's the time of the month, he does a little dance,' she explains.
'He does the willy dance. He flicks it about. Do you know what he did today?

'I was sitting on the edge of the bed and he came out of the shower and hit me straight in my eye with his willy.
'I wanted to slap him really hard. That's a very offensive thing to do with a willy.'

But Matt, 25, who wed Emma, 32, in July, says she has her own bad habits.

'She burps and farts a lot,' he says. 'She blows burps into my face – it's so horrible.'
Matt won I'm A Celebrity...Get Me Out Of Here! in 2006.
SEE PHOTOS I'm A Celebrity...Get Me Out Of Here! 2008 contestants revealed>>