Friday 07 November 2008
SHOCK! Amy Winehouse 'won't pay Blake Fielder-Civil's rehab bill'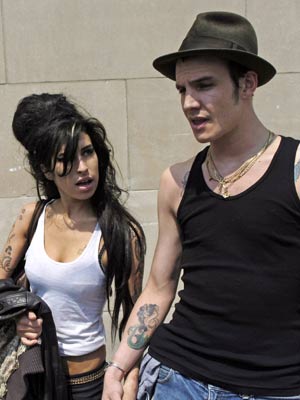 Amy Winehouse and Blake Fielder-Civil married last year
Amy Winehouse is reportedly refusing to pay £30,000 for Blake Fielder-Civil's rehab.
The 26-year-old checked into a facility in Surrey after leaving Edmunds Hills Prison in Suffolk on Wednesday.
'Blake thought he would click his fingers and she'd stump up the 30
grand,' says a source. 'But so far she has refused. He's not happy.'
Amy, 25, only found out he was being released hours before he was freed, says her dad Mitch, 57.

'He never told her,' he says. 'She learnt about it from reporters. Blake is a no-hoper. I want Amy to forget about him.
'The best thing that could possibly happen is for them to go their separate ways.
'Amy hasn't seen him for ages, I don't think she cares one bit.'

SEE GALLERY Amy Winehouse - from busty brunette to scrawny scrap>>