Monday 06 October 2008
Justin Timberlake and Jessica Biel 'engaged'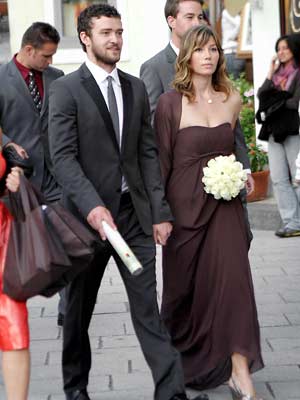 Sexy Back singer Justin Timberlake and Jessica Biel attend wedding in Rome
Justin Timberlake is said to have asked girlfriend Jessica Biel to marry him.

The singer, 27, was attending her friend's wedding in Rome when he reportedly got down on one knee.

'He is besotted with Jessica and wants to make an honest woman of her,' a source tells the Sunday People.

'He planned to propose in Rome because it is such a romantic city.
'Jessica is over the moon and looking forward to a huge wedding. She can't wait.'

Justin and Jess, 26 - who was a bridesmaid at the ceremony - have been together for two years.

He previously dated actress Cameron Diaz, 36, and Britney Spears, 26.
SEE PHOTOS Justin Timberlake and Jessica Biel look loved-up at friend's wedding>>
SEE GALLERY Britney Spears - from child star to train wreck>>
SEE GALLERY Cameron Diaz and Paul Sculfor enjoy loved-up day out>>
Alison Adey