Sunday 05 October 2008
Ricky Gervais: I'm too rich and too famous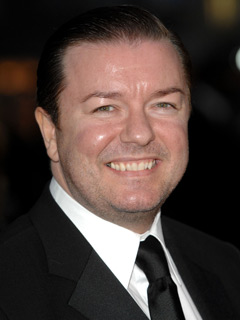 In Ghost Town Ricky Gervais plays a dentist who can see spirits
Ricky Gervais has admitted that he wished he could be anonymous.

The actor hates being in the spotlight and doesn't understand people who revel in celebrity.

'The worst thing about this job for me is the fame,' he says. 'I've never understood why anyone wants people to know who they are.
'That's the thing I wish I could turn off.'

Ricky has his first leading movie role in Ghost Town – but when he signed up he set some ground rules. 'No wigs, no prosthetics and no nudity: no one wants to see me without my clothes on,' he laughs.
The 47-year-old is also uncomfortable about the amount of money he earns.

'It makes me feel guilty and a little bit weird,' he tells The Daily Telegraph. 'I've never done anything for money that I wouldn't do for free, and that's the truth.'
Ghost Town is released on 24 October.
Isobel Smith