Wednesday 17 September 2008
Sir Bob Geldof gives blessing for Pixie lingerie shoot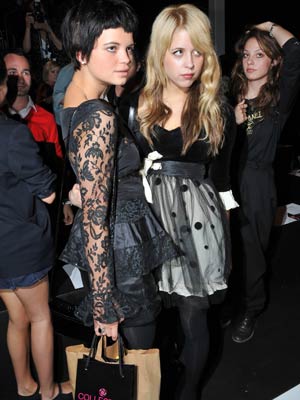 Pixie Geldof is close to sister Peaches
Sir Bob Geldof has given his permission for daughter Pixie to star in a series of underwear ads.

Older sister Peaches and best pal Daisy Lowe, both 19, recently posed for lingerie firm Agent Provocateur.

And Sir Bob, 56, has agreed to let Pixie, 18, follow in their footsteps.

'Bob was so happy with the shoot that he has given his blessing for Pixie to do one with the same designers,' Peaches' spokesman tells the Daily Star.

Agent Provocateur insiders reckon the new images will be very popular.

'After having Peaches in one of our ads it would be fitting – and a real coup – to get her little sister as well,' says a source.
'They have both got lots to offer in very different ways.'

SEE GALLERY Daisy Lowe and Peaches Geldof star in Agent Provocateur shoot - Season Of The Witch>>