Thursday 11 September 2008
Keira Knightley: I'll get pregnant to beat anorexia jibes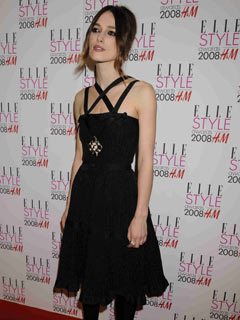 Keira Knightley stars in The Duchess
Keira Knightley reckons she'll have to get pregnant to convince people she doesn't have an eating disorder.
'That's a good reason to have a kid,' she tells Canadian newspaper National Post.
'They won't say I'm anorexic anymore. Shit, I've got to have a child.
'I can't win. One week I'm anorexic and now my curves are too big. I mean really? It's a joke.
'Am I too tall, too short? Well I'm sorry I'm me.
'It's so predictable to be asked about it, but to me it's not appropriate.'
Keira, 23, is dating actor Rupert Friend, 26.