Monday 08 September 2008
George Sampson causes chaos in London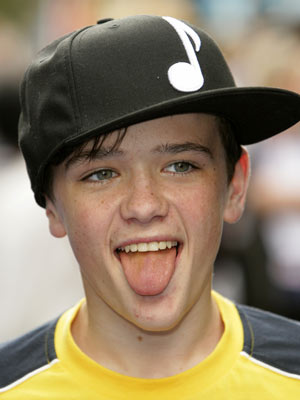 George Sampson was questioned by the cops over his screaming fans
George Sampson was forced to say sorry to the authorities last week when screaming fans caused a disturbance outside his rented home.

The Britain's Got Talent winner, 15, was staying in Covent Garden when crowds began to gather outside.

'I felt really bad for the neighbours but there wasn't much I could do except go and talk to the girls and ask them to be quieter,' George says.

'I apologised to the police and they had a few words with the girls.'

But George's mum Lesley is worried their landlord will kick them out.

'George loves the fans but I'm really concerned,' she tells The Sun.

'I don't know how they found the address. I'm worried we'll get evicted if it carries on.'

George is currently recording a DVD in the city. He recently performed in West End show Into The Hoods.
SEE PHOTOS Don't miss our amazing George Sampson photo gallery>>
PHOTO QUIZ Are you George Sampson's biggest fan?>>
PHOTO QUIZ 2 For really devoted George Sampson fans>>
VIDEO EXCLUSIVE George Sampson struts his stuff with the cast of Into The Hoods>>
Alison Adey