Monday 08 September 2008
Catherine Tate tipped for Doctor Who comeback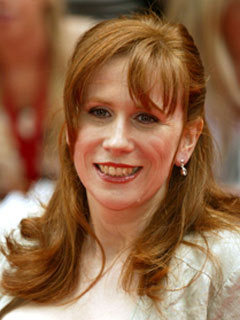 Catherine Tate plays Donna Noble
Catherine Tate could reprise her role as Donna Noble in Doctor Who.

Her character was last seen returning to her family after having her memory wiped by the Time Lord, played by David Tennant, 37.

But now Catherine, 40, is apparently being written back into the show for one of four specials that will air next year.

'Fans will be delighted to see Catherine back,' a source tells The Sun.
'She was one of the wackiest companions of all time and she brought heaps of humour.

'Anything can happen in Doctor Who. His assistants are always recurring and Donna is no exception.
'When you're a Time Lord you can go back to any point in history and meet whoever you want.'

John Simm, 38, will also return as villain The Master – despite having been killed off in a previous series.

'It's great to have John back — he and David Tennant have a real nemesis chemistry,' the source adds.
Next year's specials replace the normal series, which was suspended so David could take time out for stage roles.