Tuesday 02 September 2008
Coleen McLoughlin: I'm changing my surname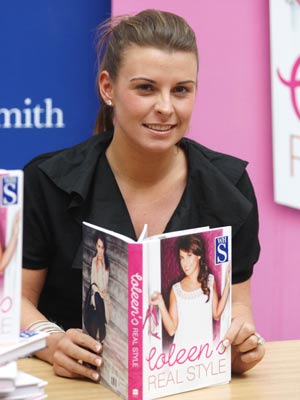 Coleen McLoughlin loves being married
Coleen McLoughlin has decided to take her husband Wayne Rooney's surname.

The pair wed in Italy in June, and until now the WAG hasn't bothered changing it.

But after discussions with Wayne, 22, she's decided to officially become Coleen Rooney.

'I'm changing my name completely,' she tells the Daily Star.
'At first I thought about keeping my own name, then I thought about using both names and then I said to Wayne: "What do you want me to do?" And he said: "I want you to change it."

'I thought: "You know what, when I eventually have children I'd like us all to have the same name." I'm Mrs Rooney and I love that.'
Yesterday, Coleen, 22, launched her new book Coleen's Real Style at Lakeside Shopping Centre.
SEE GALLERY Wayne Rooney and Coleen McLoughlin - their love story so far>>

SEE GALLERY Wayne Rooney and Coleen McLoughlin's wedding photos>>