Tuesday 19 August 2008
SEE PIC OMG! Cancer sufferer Patrick Swayze still smoking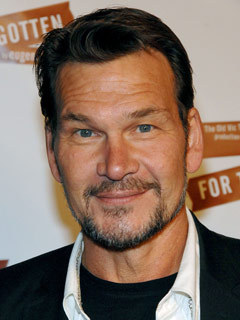 Actor Patrick Swayze shot to fame in the film Dirty Dancing in 1987
Patrick Swayze has been snapped puffing on a cigarette, despite having pancreatic cancer.

The actor was diagnosed with the life-threatening disease earlier this year and at the time it was reported he only had weeks to live.

But yesterday, Patrick showed he wasn't going to let the illness stop him enjoying a ciggie as he took a break from filming new TV show The Beast in Chicago.

'It was so surprising to see him with a cigarette in his mouth,' an onlooker tells the Daily Star.
'When you have survived cancer and come back from death's door within months like that, then you've got to be stupid to do anything to threaten your recovery.'

Patrick, who turned 56 yesterday, has been undergoing chemotherapy and is thought to be responding well to the treatment.

The Beast will air in the US next year.

SEE PIC Patrick Swayze smoking on the set of The Beast here>>

SEE GALLERY Patrick Swayze through the years>>