Friday 15 August 2008
Russell Brand: Brad Pitt and Angelina Jolie shouldn't breed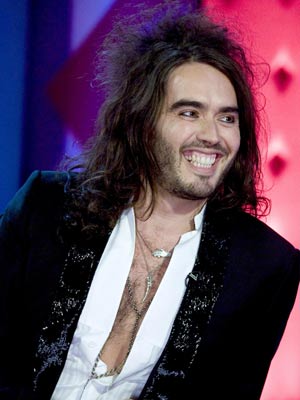 Comedian Russell Brand will host the MTV Video Music Awards next month
Russell Brand
reckons
Brad Pitt
and
Angelina Jolie
should stop making babies.
The comedian says it's not fair that their children turn out so perfect.

'The thing is that they're both so stupidly beautiful and good-looking and attractive that their children are born looking gorgeous!' he says.
'It's unsettling. That first one they had, she had sort of a Marilyn Monroe mouth. I don't think they should breed, those two people.'

So Russ, 32, hopes Brad, 44, and Angelina, 33, will find another way of expanding their family.

'I think their adoption policy is probably better because when their genes come together, it creates a storm of attractiveness so potent that it could one day bring down the planet,' he tells The Sun.
'No one needs a baby with eight-inch-long eyelashes.'
The pair are parents to newborn twins Knox Leon and Vivienne Marcheline, Shiloh, 2, and adopted kids Maddox, 7, Pax, 4, and Zahara, 3.