Sunday 17 August 2008
Nikki Grahame: One fall could paralyse me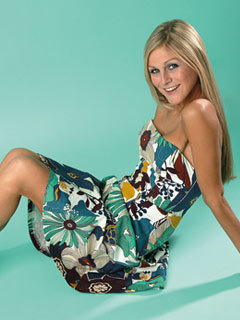 Nikki Grahame found fame in Big Brother 7 in 2006
Nikki Grahame
has revealed that her battle with
anorexia
has left her with brittle bone disease
osteoporosis
.
Eating poorly throughout her teens means the
Big Brother
contestant's bones didn't form properly and have been left permanently weakened as a result.
'Every time I go out I worry about tripping over,' she says. 'Just one fall could break my neck and leave me paralysed for life.'
Nikki, 26, suffered with the eating disorder for over 10 years, finally beating it at 19.
'I started undereating when I was 8,' she tells Fabulous. 'It got so bad in my teens that I was often hospitalised.'
She now takes calcium supplements and has a diet rich in diary foods to prevent it getting worse.
Rachel Ingram