Monday 04 August 2008
Pete Doherty rescued from sinking boat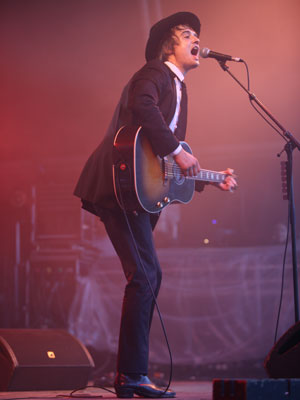 Pete Doherty got into trouble at the Loch Lomond festival in Scotland
Pete Doherty
cheated death on Saturday when he narrowly escaped being thrown into a freezing lake.
The singer and 5 pals took a rowing boat to a VIP area at Scotland's
Live At Loch Lomond
festival.
But it sprang a leak and started to fill with water.
Fortunately 29-year-old Pete, who performed at the gig with split trousers, was towed to safety.
'We lost an oar and sprang a leak,' his manager Adrian Hunter tells The Sun. 'It was freezing and we had a laugh, but it wouldn't have been funny if someone died.'
SEE PICS Pete Doherty performing with split trousers here>>