Monday 23 June 2008
OMG! 50 Cent to change his name to 79 Cent?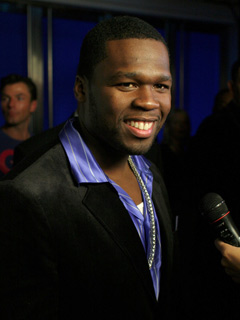 Rapper 50 Cent could soon be known as 79 Cent
50 Cent has been challenged to rename himself 79 Cent – for charity.

The rapper has been approached by US fast food chain Taco Bell to promote its new menu, where everything costs just 79 cents.

They also want Fiddy, 32 – real name Curtis Jackson – to do a rap for the ad campaign.

'We know you adopted the name 50 Cent as a metaphor for change,' Taco Bell president Greg Creed writes in an open letter to the star.
'We at Taco Bell are also huge advocates for change. We encourage you to "Think Outside the Bun".'

The company promises to donate £5,000 to charity if Fiddy agrees.
But reps for the rapper told a US magazine that the offer was 'a sleazy and ill-conceived publicity stunt' and that details were 'leaked to the press before it was even presented to 50 Cent's agent'.