Friday 20 June 2008
George Sampson: I'd love girls to go crazy over me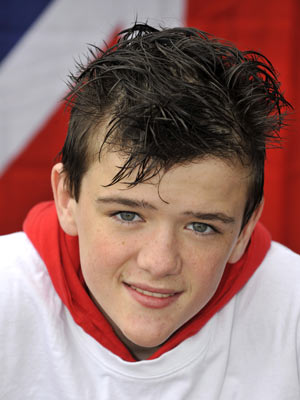 George Sampson wants girls to grab his hair
George Sampson has admitted that he'd love to be surrounded by devoted fans.

The Britain's Got Talent winner was forced to hire extra security this month after he was mobbed at his school in Warrington, Cheshire.
But George, 15, says he enjoys the attention he's getting.

'I'd like it if loads of girls went mental and tried to grab my hair,' he says.

Despite his adoring fans, he insists he's going to keep his feet firmly on the ground and finish his GCSEs.
'I want to do well in my exams,' he tells the Weekend.

'I'm not just going to forget about everything else. [But] I've worked so hard to get this far. I hope that one day I will become big and successful.'
As part of his prize for winning the ITV show, George will appear at the Royal Variety Performance in December.
PHOTO GALLERY SPECIAL: George Sampson is fit>>
George Sampson photo quiz 2 - how well do you really know winner of Britain's Got Talent?>>
Are you George Sampson's biggest fan? Try our photo quiz and find out>>
Alison Adey