Wednesday 18 June 2008
Amy Winehouse plans a baby with locked up husband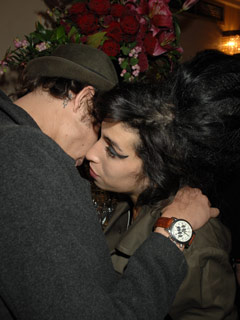 Amy Winehouse with Blake Fielder-Civil
Amy Winehouse is already thinking about having children with jailed husband Blake Fielder-Civil.

The singer's dad Mitch says it's only a matter of time until they try for a baby.

'If Blake's out of prison in a year, they'll be having a family,' he says.
'Amy understands Blake might have to do a long time in prison – she's not stupid.
'But she'll stand by him and he'll stand by her.'
Blake, 26, is currently on remand at Pentonville Prison on charges of GBH and conspiracy to pervert the course of justice.
Alison Adey