Sunday 15 June 2008
Snoop Dogg: Beyoncé Knowles and Jay-Z should make babies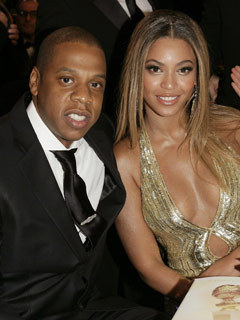 Beyonce and Jay-Z married in Manhatten
Snoop Dogg
reckons
Beyoncé Knowles
and new husband
Jay-Z
should try for a baby.
The rapper, who has 3 kids, says starting a family should be the goal for any wedded couple.

'I told them to go home and make babies,' he says.
'They should, that's the next step as far as marriage, having kids ... add on to the family, so hopefully that's what they'll do.'

And Snoop, 35, real name Calvin Broadus, says the key to a lasting union is: 'Communication, and being able to fight and get back up.'
'To have misunderstanding and [then] get some understanding.'
Snoop has been married to Shante Broadus for 10 years.
Beyoncé, 26, and Jay-Z, 38, tied the knot in a quiet ceremony on 4 April.
SEE GALLERY: Baby names: Celebrity baby names A to Z