Friday 06 June 2008
Queen tells Kate Middleton to get a proper job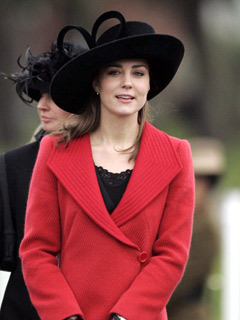 Kate Middleton is being pressured by the Royal Family to get out to work.

The Queen has reportedly told Prince William not to propose until Kate shows signs of becoming a responsible adult.

'On the few occasions the Queen has met Kate she thought she was a nice enough girl,' says an insider.
'But she still has no idea what Kate actually does. [The Queen] believes in a modern monarchy and that everyone in this country should work.

'She feels very strongly that the Royals should be leading by example. There is no room for Royal WAGs.'
Kate, 26, quit her job as a fashion buyer for high street chain Jigsaw at the end of last year and hasn't yet found any other employment.

She spends most of her time in 25-year-old William's quarters at Clarence House.
Meanwhile, Woolworths has scrapped its range of souvenirs, which it launched in 2006, to mark the engagement of the couple - because his appearance has changed.
'It is something we were ready for in 2006, but time has moved on and the person behind the designs has also moved on,' a spokesman tells the Daily Telegraph.

'The Wills and Kate designs from 2006 still exist but Woolworths has no plans to sell any royal merchandise in the near future.'

Alison Adey