Saturday 26 July 2008
Hayden Panettiere: I'd have an affair with Angelina Jolie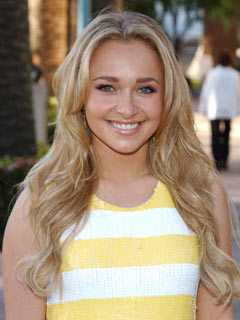 Hayden Panettiere plays Claire Bennet in Heroes
Hayden Panettiere
says she'd love to hook up with
Angelina Jolie
,
Jessica Alba
or
Charlize Theron
.
The 18-year-old, who plays Claire Bennet in hit US show Heroes, has been dating hunky Heroes co-star Milo Ventimiglia, 31, since last year.
But Hayden knows exactly which sexy A-listers she'd want to seduce if rumours about her being a lesbian were true.
'If I'm going to be linked with someone, I could do an affair with Angelina Jolie, Jessica Alba or Charlize Theron,' she tells The Sun.
'And Kate Beckinsale is gorgeous. There are so many beautiful girls.'