Saturday 26 April 2008
SEE PICS Trinny and Susannah get naked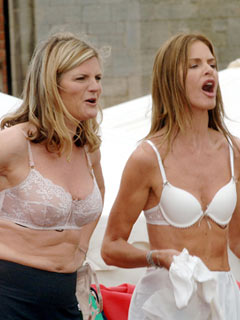 Trinny and Susannah weren't coy about being snapped in the buff
Trinny Woodall
and
Susannah Constantine
have posed nude to promote their new TV show.
The fashion gurus joined members of the public on a hill near Lewes, East Sussex, to strip off for the cameras.
Trinny, 43, and Susannah, 47, filmed the naked gathering for
The Great British Body
- and to demonstrate that people come in an extraordinary variety of shapes and sizes.
The footage will air in June.
See Trinny and Susannah naked here>>
Susannah Constantine: I'm sure I'm getting the menopause>>
Trinny: I wore Susannah's breasts>>
Susannah Constantine: I fear ageing>>