Monday 29 October 2007
Paula Abdul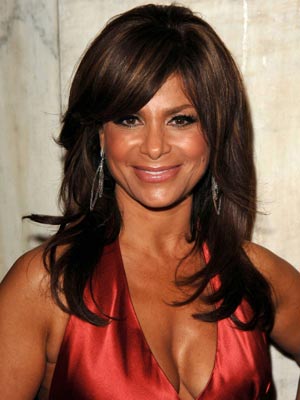 She's the daffy, sassy American Idol judge, the good cop to Simon Cowell's bad one. Their slanging matches have viewers hooked, with more than one commentator suggesting it's sexual tension, not mutual hatred, that fuels their confrontations.
But there's more to Grammy Award-winning Paula, 45, than playing Simon's nemesis. She's also a successful singer-songwriter and co-wrote Spinning Around, the song that put Kylie Minogue back at the top in 2000.
When meets her, she's less scatty than her Idol persona, but just as warm. It's easy to see why she's the contestants' favourite judge. She's running late for our meeting, but apologises profusely, blaming a heavy cold. Sniffles aside, she settles down to answer your questions…Would you have gone on American Idol or The X Factor at the start of your career?
Clare Fisher, Southampton
I don't know that I'd have it in me to put myself out there like that. It's excruciating, soul destroying. I give these kids so much credit. That's why I'm glad I'm a part of it – I remind them to keep their dream alive. Celebrities come up to me and say: 'Thank God I've made it. I'd hate to have to come up through the ranks of The X Factor or American Idol.'
What, in your opinion, are Simon Cowell's best qualities?
Justine Reedy, Manchester
Well, he knows how to wear high-waisted trousers very well and has
a great sense of T-shirt style [laughs]. It used to be black, but now he's started wearing white and light blue because he thinks it looks friendlier.
Have you ever had any plastic surgery?
Janet Signal, London
No, but I might when it's time. I love it when doctors say about me: 'She's definitely had surgery.' I invited one who'd said that out to lunch so that he could study my face to see that it's not true. You can tell I haven't had surgery because I look exhausted – I don't look awake even when I am.
Will you ever release any more albums?
Caroline Hart, Wales
I'm about to release another greatest hits package with one or two new songs. They're in demo form and all ready to go, so watch out for it.
What would you say to critics who've accused you of being 'out of it' on American Idol?
Olivia Garson, Portsmouth
Simon Cowell spread some rumours as a joke, but it's been taken out of context. Look back at my 20-year career – you've never seen me drunk or accused of using recreational drugs because I've never done it. That's the biggest misconception about me and it's very annoying.
Your reality TV show Hey Paula was shown in the US this summer. What made you let the cameras into your life?
Karen Harris, London
I must've been crazy! I totally regret it. These people are on a mission to make you look bad and they edit the film so it's not accurate at all. I really trusted them to paint a fair portrait, but they kept the cameras rolling on private issues that aren't for public consumption. Naïve as I am, I want to believe everyone will be fair and honest, but they're not. I learnt my lesson and it's over now. I don't have to do it again and I never will.
What's the most demanding thing you've ever asked for?
Susie Read, Hampshire
A pair of sweatpants to wear on a red-eye flight so I could be comfortable.
Be honest – do you secretly fancy Simon Cowell?
Maria Barton, Kent
Once and for all, I fancy Simon Cowell like I fancy cold sores or
root canal without anaesthetic.
Who's your favourite artist on the music scene right now?
A Everett, Leicester
I love Lily Allen. I don't think the fact that she had to cancel her gigs in
the States will necessarily affect her success here. Talent is talent. People forget that pop stars are human, too – we don't want to let people down, but sometimes we can't help it.
Would you like to have kids? If so, will you adopt me?
Mini Paula Abdul, Bradford
I thought that I'd have kids by now because I'm very maternal. If I'm meant to have kids, I will. I could always adopt. There's a perception that if you're working hard you don't have time for children, but there's always time for love and family.
You've suffered from bulimia in the past. Was it hard for you to get over that with the public watching all the time?
Renee Knipp, Montana, USA
I didn't care about public opinion, I just cared about my recovery. I put myself in a programme that gave me the tools to cope and later allowed me to talk about my problems and help people. Eating disorders still aren't understood. We need to spread the knowledge so that it's not so scary and so steeped in shame.
If you could be any other celeb for a day, who would you be?
Tina Chapple, Newcastle upon Tyne
Simon Cowell. I don't understand how you can rip people to shreds, yet the more he does it, the more people love him. It's an easy job being him; you can just be rotten. Nice guys finish last in this business.
Have you ever had a mad celebrity crush?
Nichola, Blackpool
When I was young I loved Michael Jackson, David Cassidy and Donny
Osmond. Now I see them all, which is pretty freaky, especially as none
of them looks the same now.
If you could change one thing in your life, what would it be?
Careena Patel, Birmingham
Losing my anonymity. Sometimes you want to disappear into the crowd, but when you're famous you never can. It's hard being in this business, but I love what I do and wouldn't swap it for anything else. I could easily lose my peace of mind, but you just have to hang in there. N
Prize QuestionTell us a dirty secret about Simon Cowell.
Selina Juberri, Hyde
Well, if you really want to hear something gross… he likes to French kiss my Chihuahua dogs Thumbelina, Bessy-moo (she looks like a cow), Tulip and Tink. He licks all of them on the mouth and I have to take them to the vet afterwards to make sure they haven't caught rabies from him!
EMAIL US… WIN £50!
Put your question to the stars. The prize question wins £50.
By Susie Harding