Monday 19 November 2007
Matt Willis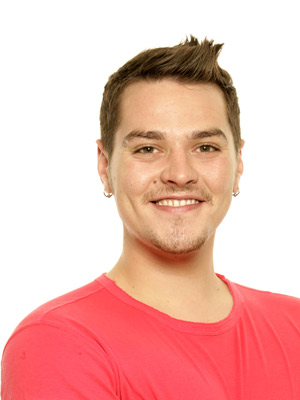 Last year's I'm A Celebrity – Get Me Out Of Here! winner Matt Willis, 24, is back in the Aussie jungle – this time with a friend. No, he's not taking 's gorilla (see opposite), but his fiancée Emma Griffiths, 31. 'It's my first presenting job and I couldn't ask for a better way to learn the ropes,' says Matt. But first he settles down to a pile of your finest questions…
Could you and Emma be the new Richard and Judy?
Nadine Johnston, Cambridge
[Laughs] Do you know what? A few people have said that to us! I don't know. It's going to be weird enough working with her, but it's nice getting to hang out with your missus all day.
What was your dream job when you were growing up?
Amanda Moran, Chelsea
I've always wanted to be in a band, ever since my dad used to play me Madness songs. I must've been about six when I got my first guitar, but I never took it seriously. To be honest, I still don't. I'm pretty bad.
I blagged my way through Busted.I do miss being on stage, though.
Do you still see David Gest?
Phillipa Jones, Weybridge
Yes. I had a call from him late last night that I didn't return and if
I don't return his calls, he gets in a strop. But it was late and I was about to go to bed. I knew we'd end up talking for a good half an hour and
I had to be up early to do your shoot. So I chose the shoot over David.
I'm in trouble now.
You've gone from boy band heartthrob to reality TV star
– was that intentional?
Amy Wilson, York
No, not at all. It's really odd to think that I'm A Celeb… happened– and even more odd that I won it. Even Emma, who's a reality show junkie, turns to me and says: 'I can't believe you bloody won it!' It seems so strange because I think of myself as quite a normal guy. It's flattering that people picked up the phone and voted for me. I'll always have it in the back of my mind that I want
to do music, though – I don't think that'll ever go away. I definitely want to be in another band. But I've got the wedding coming up, so I want to get that out of the way so that I can put 100 per cent into the music.
Would you consider doing another reality TV show?
Paula Matthews, Slough
No, I don't want to do another one.I was quite open about the reasonI went on I'm A Celeb. I had an album out, so I thought: 'What better way to get publicity?' Unfortunately, it didn't really happen the way I'd hoped and nobody knew about the album [laughs]. I thought they'd be promoting the arse off it, seeing asI was on TV every night, but no, that didn't quite work. There's stuff that I'm in talks about doing, which actually sounds really interesting, so hopefully next year will be a big one.
Are you still in touch with all the Busted boys?
Jocelyn Turner, London
I talk to James [Bourne, 24] – not as much as I'd like because he's a very busy boy, but we've been best mates since I was 15. I don't really get to see Charlie [Simpson, 22]. I'll invite him to my wedding – it's not like we've fallen out – but we just kind of lost contact and now it's been so long. Who makes the first move? I've been around the world with that guy and I think the world of him. Actually, I'm going to call him after this interview.
Whose posters did you have on your wall as a kid?
Jane McDonald, Edinburgh
I was one of those stupid boys who had loads of pictures of chicks from FHM and Loaded. One wall was completely covered in pictures of chicks in their underwear. I thought it looked really cool. When I got my first girlfriend, she said: 'You seriously have to pull those down.'
Are you nervous about returning to the jungle?
Julie Maddox, Wiltshire
No, I'm so looking forward to it. I get to see it from the other side. Last year, I didn't get to see behind the scenes at all. I came out of the show, stopped for a few pictures, got whisked away in a car to the wrap party, then suddenly I was on a plane home the next morning.I didn't get to see any of the stuff that goes into making the show and that's what I'm interested in.
Apart from your house, what's the most expensive thing you've ever bought?
Chrissie H, Ilford
Probably Emma's engagement ring – I felt like a proper grown-up when
I parted with that money [laughs]. It's supposed to be three months of your pay, but I guess it depends which three months! Emma wanted a ring
like one she saw in The Princess Diaries 2: Royal Engagement. Luckily, my
brother-in-law-to-be is a jeweller and he made an exact replica.
Are you obsessive about anything?
Lilly Palmerston, London
I'm weird about everything, likeI have to walk in sync. If someone's walking out of sync with my feet, it totally throws me and I can't concentrate on
anything else. It's really awkward if you're walking with two people – I have to block one person out [laughs]. I don't know why I do it. And if I tap something with my left hand, I have to tap it with my right hand, too.
What's the strangest thing a fan has ever sent you?
Helen Lewis, Winchester
I was once sent a card that had body hair taped to it. Yep, they were pubes. The message said: 'Just to be close to you.' I didn't know what to do about it, but I've been sent a lot of weird shit. James once got sent a birthday cake that had pubes in it! [Laughs] He cut it open and he pulled out, like, four or five. What is it with fans and pubes? N
Prize QuestionHave you ever been star-struck?
Wendy Thomas, Cardiff
I'll tell you, but he's going to think I'm a dick. I got to hang out with Liam Gallagher. I feel an idiot saying this, but it's Liam bloody Gallagher, y'know!? We're sitting there having a chat about music and I was like: 'I'm talking about music with Liam Gallagher!'
EMAIL US… WIN £50!
Put your question to the stars. The prize question wins £50.
By Justine Harkness