Sunday 13 April 2008
Estelle: I partied for a fortnight after reaching No 1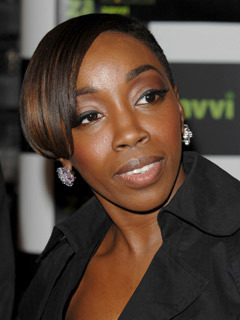 Estelle's single
American Boy
(featuring
Kanye West
) knocked Duffy off the UK No 1 spot and to celebrate she partied every night for two weeks straight.
Now living in Brooklyn, the 28-year-old British star is the first artist to sign to
John Legend's HomeSchool label
.
'I flew back to the UK and had a massive party at Paper in London with all my friends and family,' she says. 'It still hasn't sunk in yet.
'I've just spent ages explaining to US Customs that I had so much baggage with me because I was celebrating my No 1 and needed a lot of clothes for all the partying.'
Currently single, she's not keen on the New York style of dating.
'Well, Americans just date and they'll have three or four different people on the go,' she explains. 'Back home, you're exclusive with someone when you wake up in their bed.
'But over here, it's very different. Just because they've made you breakfast doesn't mean you're a couple. It's confusing.'
Estelle prefers British guys to those Stateside but loves Amercan Boy Prince. He asked to meet her at a Grammys aftershow party.
'I couldn't believe he even knew my name,' she says. 'He's got an amazing aura and I'd love to work with him in the future. In fact, I think I'd cry if I ever got the opportunity.'
Check out Estelle's blog at
www.estellemusic.com/blog
See the full interview in Now magazine - out now!